Happy Saturday morning everyone!  Last day of the month here, can you believe it's April tomorrow?! Craziness! I certainly can't believe it, time is just zooming by.
Today we get to talk Jill! I see her often in the forum and I absolutely love her LO's.
Hello there! 
My husband (of 31 years) and I live in rural Northern Illinois. Our son, Jacob, just turned 27 last Sunday. He and our DIL, Amanda, live in Chicago, where Jacob is a chef. They are transitioning out of the city to the Galena, Illinois area. I am super happy that they will be living closer to us! I am an avid photographer, my camera is always setting out on the counter at home – and I take it just about every where we go. We enjoy riding motorcycle in the spring, summer and fall … (I RIDE, I don't drive! 
). 
We're practically neighbors! I love that GingerScraps is so full of us Midwestern gals! 😉
How long have you been scrapping Jill?
I have been doing digital scrapbooking since 2006 when I happened upon it by accident. I looked up "computer crafts" on the internet and was taken to a digital scrapbook site – and I was hooked!! (Recently started to dabble in hybrid projects as well – I purchased a Silhouette Machine last fall).
What is your FAVORITE single element to scrap with? Something you love to use over and over again?
I'd say my favorite single element to work with is a string or ribbon … something I can add a shadow to. I find that using a string or ribbon can really tie a layout together. (ha! No pun intended! 
)
What is your favorite subject to scrap?
That's a tough one. I guess it really depends on the kit I'm using, but I do enjoy scrapping photos from Jacob and Amanda's wedding … and I like scrapping the pictures I've taken during our vacations as well.
My own wedding is definitely my go-to subject. I think eventually I'll put all the different LO's together in a mish-mash wedding book! Haha!
What NON-CT designer would you love to work with?
I really love all of LDrag Designs kits! 
What is your most favorite layout you've created so far?
This page I created using LDrag Design's Memorable Moments … I like the way the page is part formal and part grunge (with the cool pink grunge stamp)
And what would be the one you wish you could makeover?
I'd like to have a "redo" on this one. I think it looks okay close up, but somehow it lacks gallery appearance … 
Both are lovely in my opinion!
What is your favorite challenge to accomplish each month? The one you see yourself always getting to first?
I really enjoy the scraplift challenge. I think it is a great way to grow my scrapping creativeness.
If you could create a slogan for DigiScrapping, what would it be?

Wow – tough question! "Digital Scrapbooking … Creating Memories to Last a Lifetime"
Tell us something we don't know, either about yourself or any one thing in particular that is a fun random factoid.

I am ambidextrous – I write and eat with my left hand, but use my right hand to cut with scissors and to play almost all sports, I also use my mouse with my right hand.
Pretty sure that means you're extra good at multitasking then! Hehe!
What are you obsessed with?  Can be a book, author, movie, TV show, hobby, anything (except the obvious digiscrapping!)
While I am not a big fan of "country" music, I am a HUGE Keith Urban fan. I have been following him since his early days, before he was popular or well known. I have been to dozens and dozens of concerts … have traveled far and wide to see him. I have met him 3 times and he is super nice – and gives the best (!) hugs ever!! Oh, and my license plate? It reads "URBNFN1". Maybe a little obsessed … lol.
Love it!
Thank you Jill for taking some time to let us all get to know you a bit better. Everyone should go check out her gallery, leave some love. She has some truly beautiful (and scraplift worthy!) layouts! You can also check out her personal blog here.
I love doing the Team Spotlight because there are just so many awesome designers, gingerbread girls, sugar cookies, wonderful ladies to chat with! Next week we'll be talking with April's (Free with $10 purchase) grab bag designer! I'm so excited for a new month to start tomorrow! New monthly challenges, new book for the book club ,which by-the-way everyone should check out! I've already read it, it was impossible to put down!
Also, today is the LAST day for the super fantastic Spring Cleaning Sale in the GS Shop! Do NOT miss out on this!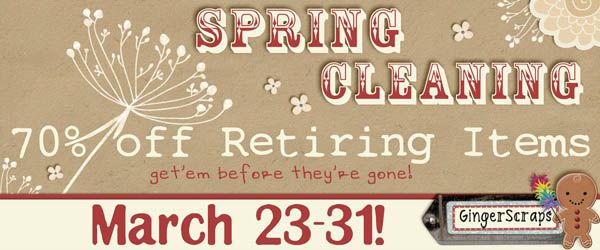 I hope everyone has a TERRIFIC weekend, and a happy April 1st tomorrow!
What are YOU looking forward to this brand new month that awaits us?