SO this will be a quick blog because I have a HUGE paper and presentation due tomorrow and I'm only halfway through the paper, noneway through the presentation–ACK! Hope all our US friends had a lovely, peaceful Thanksgiving and survived Black Friday! 😀 This week I am spotlighting another challenge with a freebie: the November mini kit challenge hosted by Lily of Pixelily Designs! Lily has made a beautiful, neutral -toned mini for us this month that is perfect for fall pictures, candid snapshots–anything! I really like the colors with a pop of brightness…check it out!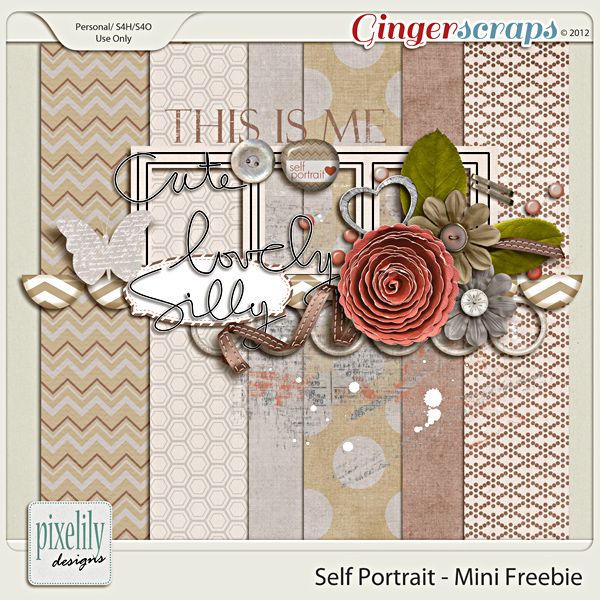 Absolutely love this–thanks for sharing it with us this month, Lily! The mini is called "Self Portrait" but it's being used for way more than self portrait pics in the forum!  Lots of ladies have already got their submissions in so it's hard to choose, but here are a few of my favorites for scrappy inspiration!
By sladd79054
By mamaape
By brenian4ever
These are all amazing layouts–seriously! I like how Lisa used this kit for something other than a self portrait; so cute and the simply journaling is perfect here. I love April's use of white space of bring focus on the title below. And Bren–this is just awesome. Your pics are adorable (you look so happy!) and your clustering is great. Beautiful creations, ladies–you've definitely inspired me to put this pretty mini to work! 🙂
FYI this is the LAST WEEK to get your November challenges complete and tallied! If you haven't been tracking them in the November Challenge Points Tracking thread–you need to get on that! All challenges are due on November 30th to go towards a fabulous prize from the GS shop. Even one completed challenge gets you something, so definitely join in now even if you haven't done any yet! If you have any questions, stop by the Cookie Jar and we'll get back to you ASAP!
Alright, time for me to get back to my paper–UGH! Wish me luck, hehe! Hope y'all have a wonderful week and I will see you in December! 😀