Wow. I don't know about you, but iDSD just about wiped me out! It was so much fun, though, wasn't it?
Well, the fun continues today, because we at Gingerscraps are pleased, and excited, to announce the opening of a new designer: Matilda Designs!
As always, we ask our new designers to share with us a little about themselves. Here's what Valerie had to say:
I'm Valérie, and my designer name (Matilda designs) is inspired in my little girl's name. 😉
I'm a 30 something years old, I was born and raised in France but I live in Northern Portugal for many years now with my husband and my 3 yo little princess. I love everything about arts and crafts in general.
I discovered paper scrap back in 2006, and its digital version in 2008. I immediately fell in love with this digital art (and I knew right away I was one step away from designing!), but due to professional reasons I couldn't start right away… So, I started to scrap in 2009/2010 after my girl was born, and I rapidly started to participate in collaborative kits in the forums as I was too curious about the way designers created their kits. I started selling my products 1 year and a half ago, and now, here I am, with this fabulous family at GS!!
AWW! I love that she's already seeing us as family here at Gingerscraps. What could be better?
She has some great designs, and here are just a few of them that she has available:

http://store.gingerscraps.net/Falling-emotions.html

http://store.gingerscraps.net/Be-yourself-be-nature-kit-by-Matilda-Designs.html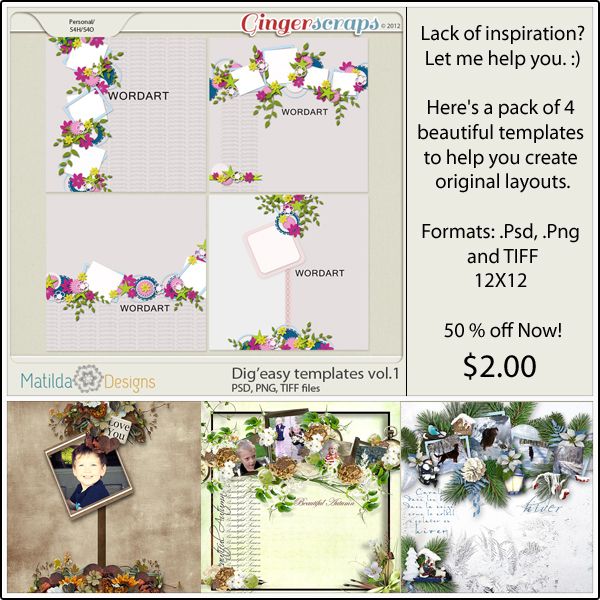 http://store.gingerscraps.net/Dig-easy-Templates-vol.1-by-Matilda-Designs.html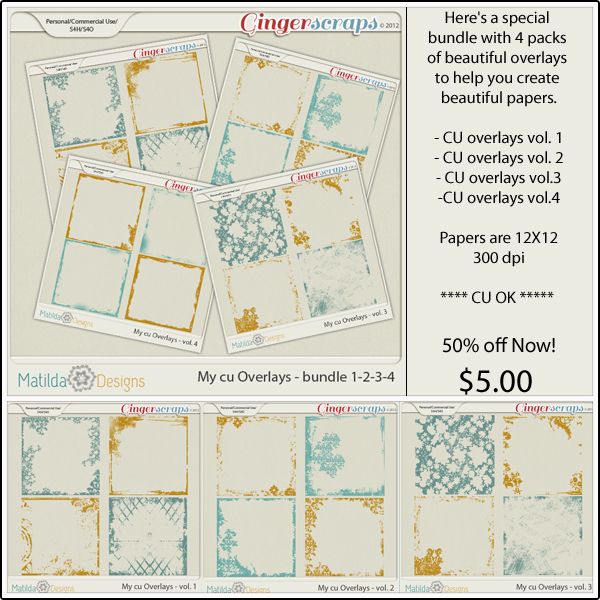 http://store.gingerscraps.net/My-CU-Overlays-Bundle-1-2-3-4-by-Matilda-Designs.html
Now that you've seen some irresistible designs, you might be interested in hearing that she's also having a sale!
Oh wow! How great, right? Go! Why are you still looking at this? Go shop!
See you Friday!