Archives for March 2013
A congratulations goes out to sparkysgirl for winning LOTW! Her LO is very absolutely stunning!! There is so much to love about it. Her layouts always blow me away. I love the series of pictures, the clusters, the stacked papers…oy…I could go on and on. SIMPLY GORGEOUS! Click the image to leave her some love or click here to view her entire Gingerscraps Gallery.
You can pick outstanding gallery layouts which become the next LOTW nominee's by posting in the "Baker's Best" thread. Check out the rules here.
As always your vote counts so head over the the forum to vote for the next LOTW winner. You can be a LOTW winner too, all you have to do is scrap! Happy Scrapping.
Happy Friday Gingerscraps Fans! This week, the designers really created some amazing things! Angelclaud, Jimbo Jambo Designs, and ViolaMoni have amazing and fun templates to work with. Pixelily, Trixie Scraps, and Connie Prince have some great bundles that will fit any scrap page you might want to make. If you're on the hunt for good CU, Bekah E Designs has wonderful grab bag for you!
Speaking of good things, I found some seriously ADORABLE layouts for y'all to admire! I'm definitely loving the theme of "Lucky Me" and I can tell that it's a theme everyone else is loving.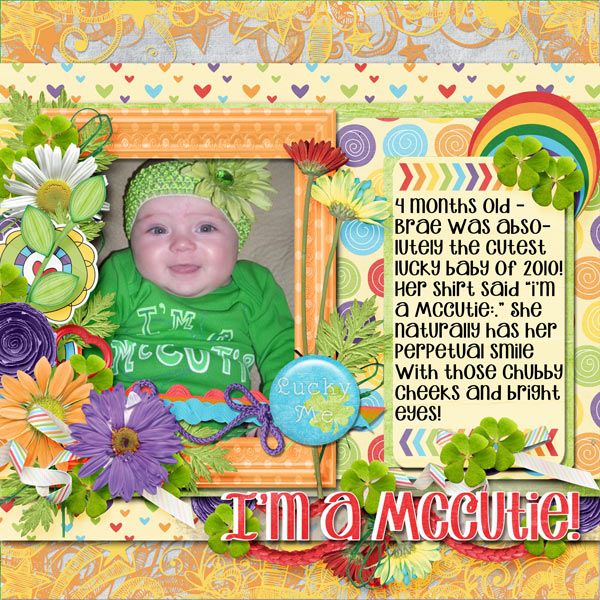 I love this layout by beckyroy. She is definitely a McCutie. I love the clusters on the side. I wish I could do it that well!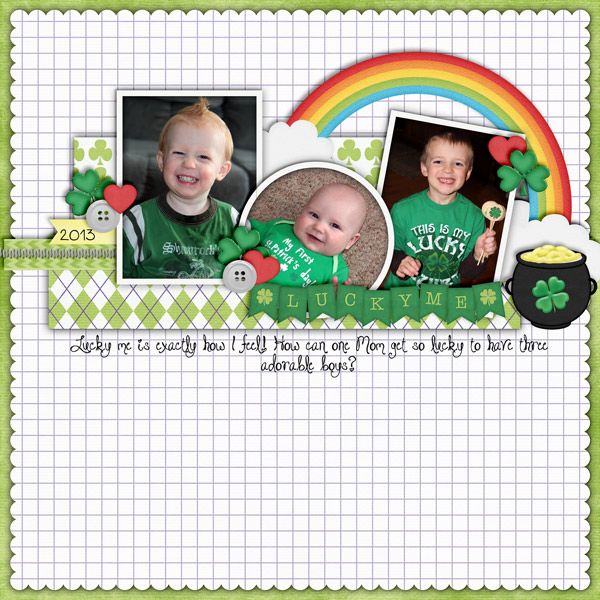 I always adore layouts by trina513. This one is no exception. I love the use of white space. The minimal amount of elements just makes the pictures stand so out. I also love the font choice!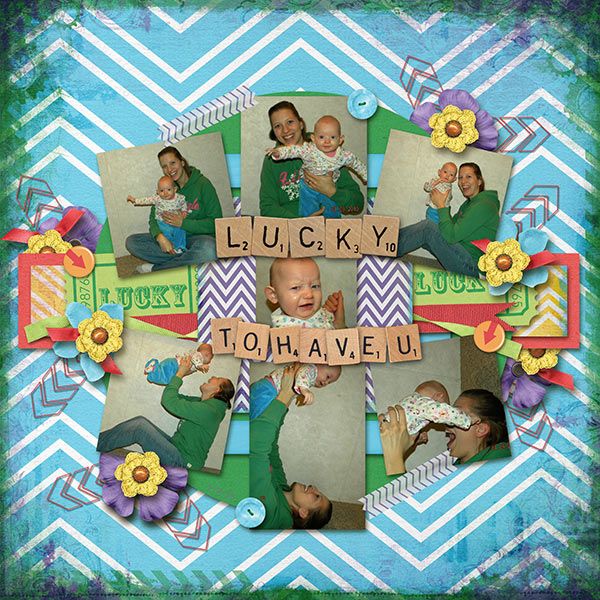 A many photos layout by MamaCake. I love how the pictures are arranged in a circular fashion. And I love the way the little clusters just draw your eyes more to the pictures.
Before I show you the goodies the designers have in store for you, I just wanted to let you know about a speed scrap happening Saturday!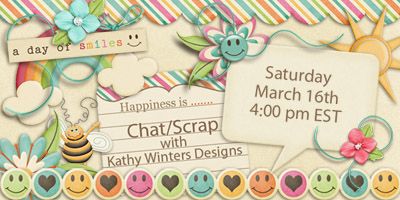 Good Morning scrappers!
As I sit here on this beautiful morning enjoying my cup of caramel coffee with a touch of dark chocolate mocha I have to honestly say I am not fully awake.  I can't seem to grasp that March is already half way through being done.  Where have the days gone?  It has been so nice having the days a little longer and all our song birds have been welcoming us every morning with beautiful songs.  I really think it is my favorite time of day.   Well enough about all that I only have a few layouts to share with you today, but no worries because they are gorgeous as always.
The first one up is a beautiful Easter layout using Pretty in Greens new kit.  I love the soft colors and the sweet little elements.  That bunny and chick are just too cute!
I have another two page layout that is also using Pretty in Green's new kit and also Connie Prince's March Templatopipa. I LOVE the dark purple against the softer colors and having the double page is just wonderful for a photo book . I love all the photos and it really is a great way to show them all off.  The soft colors and really look great with them.
Well, that's what I have for you for today.  Make sure you check the store tomorrow for all the wonderful goodies that are coming out tomorrow.  I hope everyone has a great day and a super weekend.  I hope you all have beautiful weather and don't forget to take some pictures so you can share your pages and preserve your memories!!!