Good morning and happy May, everyone! Can you believe it's May already? For those of us experiencing temperatures already in the 90s, it seems more like July: BLECH! Instead of roasting in the "spring" heat, let's stay indoors, get some scrapping done and earn a discount coupon/gift certificate to the store, shall we? It's time for the May challenges!
Let's start the month off right–with a freebie! This month's mini kit challenge is brought to you by Kathy Winters Designs and trust me when I say you'll want to rush over to the forum and grab this mini ASAP! Take a look at what she made for us to work with this month:
B-E-A-UTIFUL! I love the colors and that little birdie is just so cute.  What will you make with this? A layout, a hybrid card? This is really fitting for all things spring and of course, perfect for those Mother's Day pictures!
Here are some awesome layouts already completed by the talented ladies of the Gingerscraps forum!
By chigirl
By victoriansoup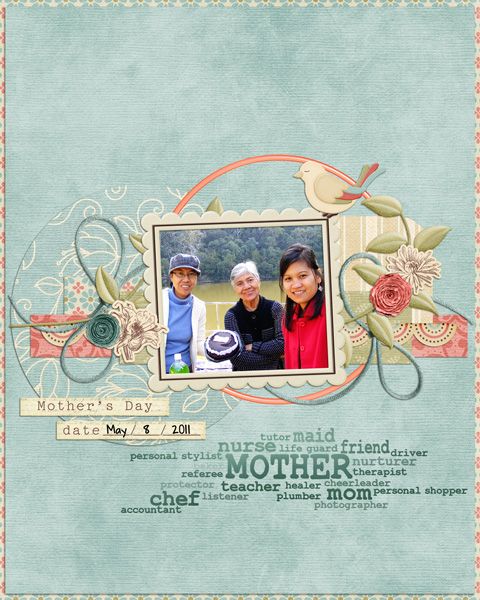 By lawerlyn
Excellent creations, ladies! Those have definitely inspired me to jump on this challenge right away. I love how the same mini kit can take on so many different lives with the hands of a different artist, don't you? Seriously indicative of the talent we have here at Gingerscraps! 🙂
Ok dear readers, now it's YOUR turn! Swing by the forum and grab Kathy's mini kit and get to scrapping! Make sure you grab your spot on the May Challenge Points Tracking thread and start tallying your progress towards a discount or gift certificate! (I'm trying to make May my third month in a row to hit 13–woohoo!) As always, any questions on this or any of the monthly challenges can be directed towards the Cookie Jar.
Hope everyone has a wonderful week, a good start to the month and a HAPPY NSD! (May the odds be ever in your favor!)