Hello and another happy Tuesday to all the lovely blog readers! 🙂 Hope everyone had a wonderful Mother's Day weekend. I was SWAMPED all weekend long so I am exhausted and ready to just sit and scrap!
So, need a little push to scrap? An incentive? How about a discount coupon or gift certificate to the GingerScraps store?! Yeah, I think that's a pretty good incentive to get to scrapping! This week I am spotlighting the color challenge hosted by JoyLynn of Blue Heart Scraps!
She has picked this bright and cheery palette for us to work with this month:

So pretty, I love it for spring and summer! To sweeten the pot, the ever-generous JoyLynn has even given you a paper pack freebie to get you started on the challenge; thanks, JoyLynn! 🙂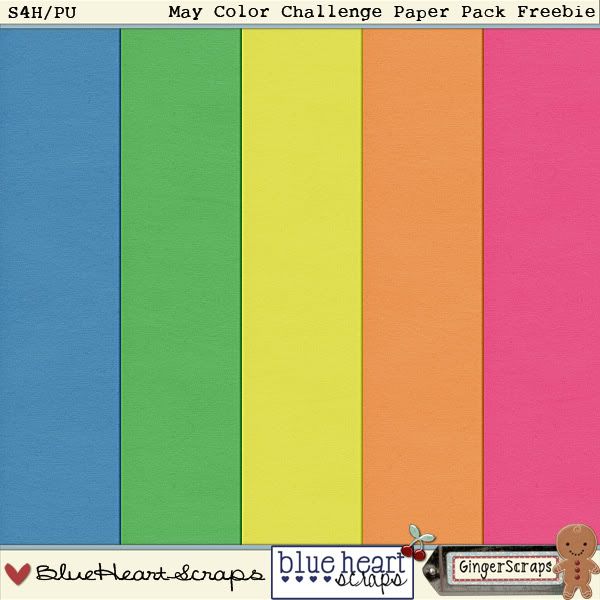 These colors are just great and the paper pack is such a sweet gesture to give everyone a start. She's also suggested some kits in the store that coordinate! Need to see the colors in action? Here's some inspiration to get you going!
by photom
by amyjo76
by skcosti
Ahh, they're all so pretty and colorful! Can you tell I like bright colors? Hehe. Even more, I like bragging on my fellow GS forum gals, these are fantastic, gals; you're all so talented! 🙂
So you've got some pretty colors to play with and an awesome freebie to boot! If you participate in the challenge, leave a comment in the May color challenge thread with a link to your layout in the gallery so we can leave you some love! Make sure to track your points and remember, if you have any questions about this or any of our other challenges, or how the points work, head on over to the Cookie Jar and someone will help you ASAP!
Take care and I'll see you all next week with the next challenge spotlight! 🙂