APRILISA!!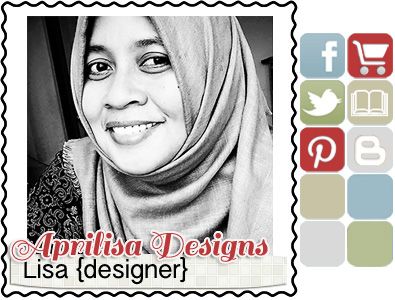 This month we have TWO designers in the GingerScraps Spotlight: Aprilisa and Pixelily Designs. Our first Designer Profile is Miss Lisa. Let's get to know her!
1… How long have you been designing?
I start designing freebies in 2009 and share them in my blog. And then I opened my first store in 2010. Still doing it until today and enjoy it!
2… What is your design process?
I will start with colors, most of the times. I saw colors and then looking for a specific theme for them. The next process is papers, etc. Sometimes I get inspired by quotes or songs that I heard too.
3… What do you use to create your designs? (software, hardware, etc)
I use Photoshop CC and Corel Draw for drawing.
4… Describe your design workspace.
Oooh, I am dreaming to have a perfect workspace. Currently, my workspace is only a small desk in my bedroom with a laptop on it, some EHDs, a big tin box to dump everything in it, a note book and pens. Opposite to my desk is a big window that always opened in day time. I like the natural light it gives, and because my apartment is on 11th floor, open window also means fresh air and sometimes wind too. Love that!
5… What motivates and inspires you as a designer?
Nothing special actually other than I enjoy doing it. I like to decorate my photos even before I knew about digital scrapbooking. So basically, it's a hobby.
6… What kit currently available in your GingerScraps store is your favourite? Why?
Pizza Lovers, cause it is specially requested by my daughter.
7… Do you craft outside the digital world?
I used to craft. But not anymore now, other than helping my daughters with their projects.
8… What is the last book you read?
The Vegetarian by Han Kang. It is 2017 Man Booker Prize Winner. It's an emotional book, Weirdly beautiful, but disturbing at the same time.
9… Do you have a guilty pleasure?
Oh, I feel too guilty to even mention it… Haha. OK, I like Harry Styles, that count as guilty pleasure? Nope? OK, eating a lot of calories before bed. I feel guilty doing it every time!
10… If time travel were possible, where would you go and why?
I never really think about it.
11… What's your favourite thing about GingerScraps?
It's a store that fit the most for my designing style. Great community and enthusiastic costumers, friendly team member, and Ginger is the best lady boss for me. She is a wonderful person, very easy to work with and very supporting.
12… If you could have any super power, what would it be?
Invisible power. That's the first thing I could think of.
Now, if those little insights into her creative process weren't enough, she also has a special sale on until November 15th just for you!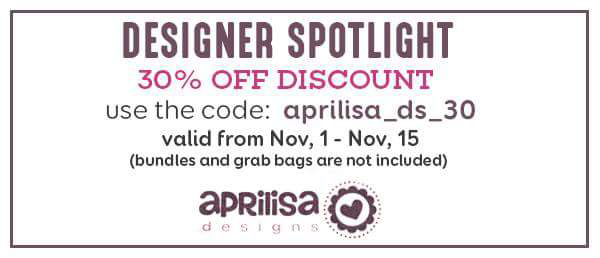 Thanks for sharing your thoughts will us, Lisa!

Post expires at 11:59pm on Thursday November 30th, 2017