Summer is here, for sure. The temps are rising, and July is already showing itself to be a scorcher. Oh, we're discussing the designs right now! The designers have knocked the buffet out of the park. They've done an amazing job, and there are so many yummy goodies this week!
It is the First of the month, and that means the revel of our new Buffet!! Don't forget the new Buffet items will all be 50% off (from the 1-5th of the month)!
*NEW Buffet Bundles* Take a look at our all new Buffet Bundles! Each buffet for 2016 will have a sub category for our Buffet Bundles. One easy click to add bunches of Buffet goodies to your cart, and an amazing value too!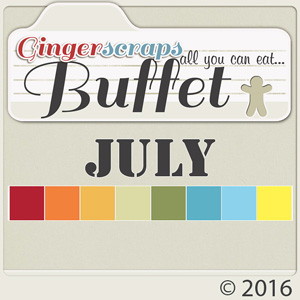 The designers all had their own take on what the colors and theme said to them! I love the variety!
The designers definitely each made the palette their own and came up with some gorgeous designs, each unique but working so well with the other designers' creations