Happy Sunday!
I feel like the weekend is never long enough, it's always come and gone in a blink of an eye!
I've got a little treat for you today! I caught up with Ana of Sugary Fancy and got her to share some fun tidbits about herself.  Ana is our Guest Designer for the month of August, and I just love her doodles and her sense of FUN!  I asked Ana to take a silly photo of herself – SMOOCHES!
 What are three things you MUST have for designing? 
Well it depends on the day…. LOL Some days I just need the total silence of the world and sometimes too much silence makes me crazy and then I need some music, something relaxing or inspiring! But I always have tons of folders and many windows opened 🙂 I don't drink coffee, I mean I drink coffee at morning (breakfast) and at night only… and I'm not that one who is always taking a snack, I usually like to focus on my work only and just drink water… well I can't say the same about facebook, pinterest, etc. that's almost always distracting me!! =/ LOL
What is your favorite part about designing?
I love everything about designing… I think I love doodling! hehehe! But yes, I love everything, doing papers is fun, coloring doodles, putting everything on the preview and choosing the best way for it to be.
What was your inspiration for "Little Miss Jolly" ?
First I saw an image with the colors, orange, yellow, pink, brown and I thought that this colors combo would be a good choice for a girlie kit, then I started thinking in about what to draw and add to it!
Do you have a design process? For example, do you plan something out ahead of time or do you just get an idea out of the blue and decide, "Yes, I'll do that!" ?
I'll say the same! It will depends on the day and of where my inspiration come from!
Sometimes a theme just pops into my head and I just start taking notes and doing things! And sometimes I'm on the web and find something inspiring and I just start creating! Well I have to say that also, sometimes, my mind is a complete blank sheet bwahaha and then I need to think, take some notes, ask my hubby about a thing and so on! 🙂
Do you have any other hobbies or passions in addition to designing/scrapping?
Oh that's easy! YES, many many passions, besides almost all kinds of art, I LOVE  painting (love painting walls) , home decor (I have a little collection of magazines), craft, dogs, movies, music, chocolates,  etc, etc…. LOL
Thank you Ana for indulging us all with a little bit more about your fantastic self!
There are currently two CT calls at GingerScraps!
Roseytoes Designs is look for a few talented and dedicated scrappers to join her team!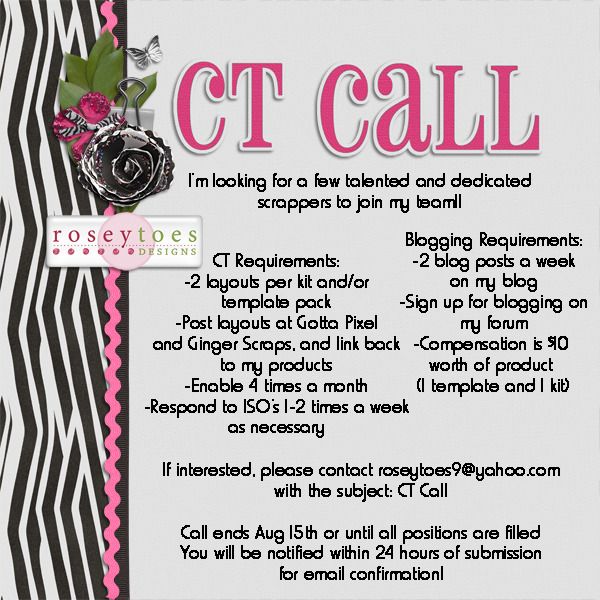 Neverland Scraps is also looking for a some ladies to do a little bit of everything!
Calls are always so hard for me to resist! We have such wonderful designers here at GingerScraps! If you're afraid to apply, DON'T BE! You might just have that special something a designer is looking for! 🙂
What else have I got for you? How about a freebie? JenC Designs has added something to our
Welcome Wagon
!  All you've got to do is join our forum (if you haven't already)! Easy peasy! Check out this template she created for us!
Have you been collecting your Daily Downloads? Kathy Winters Designs has designed a positively LOVELY kit for us and it's yours for FREE! All you've got to do is check out the blog here every day for the exclusive download link! Don't miss a day, you NEED this kit! It's so…happy! 😉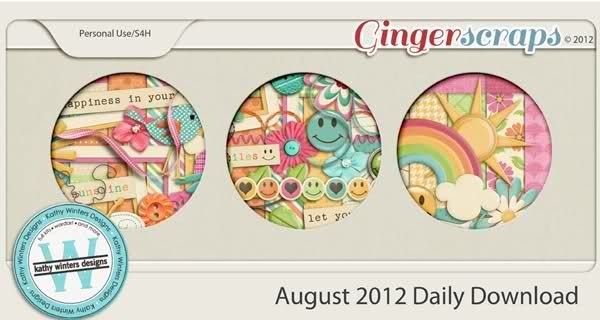 I suppose that wraps up my wrap up! I hope everyone has a scrap happy Sunday!