'Sup ya'll!
It's August! Can you believe it? I can't. For real I can't. With the start of a new month, we of course have a gazillion new things, buffet (GO TEAM!), challenges, DESIGNERS!
That's right! If you don't know by now, let me introduce you to TWO new designers. Ana, of Sugar Fancy, is our guest designer for August. I am suuuper excited! Check out these scatters she's got in the shop for us:
I'm pretty sure I'm in love with these. I'm also pretty sure you need them in your life.
I'm pretty much in love with our new exclusive designer, Neverland Scraps too!
Wendy has been a forum friend for some time ( we were even GingerSWAPS buddies!) and I am suuuuuuuuuuuuuuuuuper excited that she has laced up her designer shoes and joined our lovely design team!
Speaking of GingerSWAPS, IT'S BACK!  A pretty awesome (unofficial) challenge that pairs up scrappers for a fun twist: swap photos and create layouts for the other person! Are you going to join in? We just might be partners! 😉
Have you been collecting August's daily download? I can tell you right now, it's freaking cute! Kathy Winters Designs have created a fun, happy kit that you NEED! (Well, I think you need EVERY kit, so.. you know)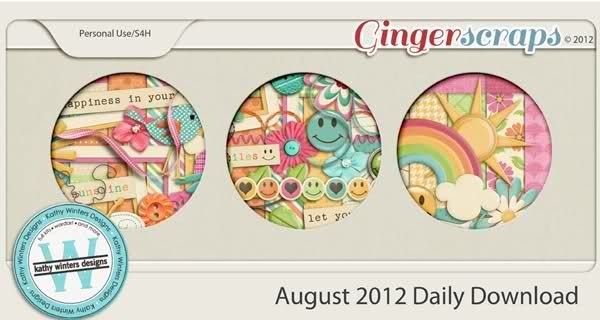 You can get today's download [here] . 🙂
Let's not forget our August grab bag! Blue Heart Scraps put together an incredible kit full of crazy awesome things you NEED (see, you need everything).
The BEST part about this kit? You can get it for FREE by spending just $10 in our store!
Make sure you check out all the new challenges for this month! Along with our new August read for Book Club, What Alice Forgot by Liane Moriarty. I'm considering getting the audio book and listening WHILE I work on my challenges! Two birds and all! 🙂
I think that's all I've got for you today friends- I'm sure I could go on, but it's SO gorgeous out this morning I'm just itchin' to soak up the beautiful weather. It's been so horribly humid the past week that the fresh, dry air of this morning has me opening my windows and actually looking forward to going outside! I'm beginning to ramble folks, that's my cue to let you all go check out the linkage here and the shop and the forum and and and and… Yup, lots to do and see here at GingerScraps! 😉
Have a happy scrappy Sunday!