Archives for March 2013
Congratulations to modgee for winning LOTW! Her LO is so beautiful. I especially like how the same photo is used twice. Great job clustering and adding in the word art/journaling. Click the image to leave her some love or click here to view her entire Gingerscraps Gallery.
You can pick outstanding gallery layouts which become the next LOTW nominee's by posting in the "Baker's Best" thread. Check out the rules here.
As always your vote counts so head over the the forum to vote for the next LOTW winner. You can be a LOTW winner too, all you have to do is scrap! Happy Scrapping.
Oh Friday!! How you sneak up on us always. This week, Pretty in Green created some frames that work with every kit in the store, including the new Project 365 themed packs that Kathy Winters put together. There's sixteen packs in that series, and she's hinted at more. Connie Prince, Bekah E Designs, Twin Mom Scraps, and Blue Heart Scraps all have some adorable Easter-themed kits. Jimbo Jambo, our guest for March, has a great template series available. That's not everything either!
So, Sunday was St. Patrick's Day but that doesn't mean the "lucky" feeling needs to end! Make sure you check out the Lucky Me buffet and pick up a few packs.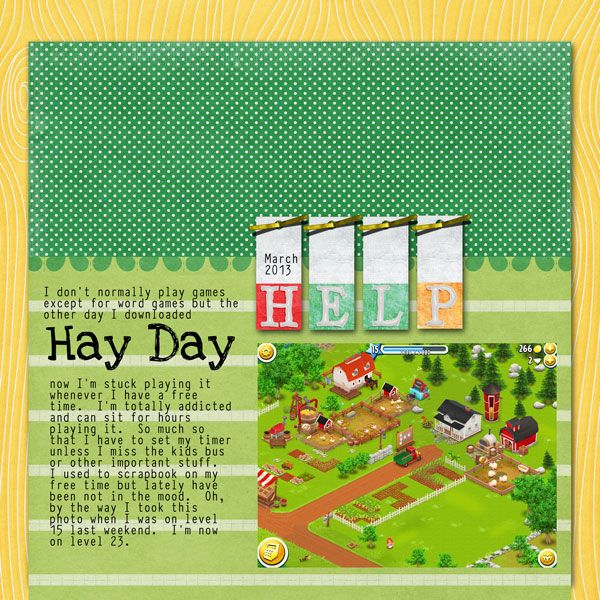 Funny layout by mom2triplets04. I'm glad I'm not the only one with an addiction to web-based games. Mine's Candy Crush Saga.

Beautiful layout by zenjen. I love the journaling. So sweet and heartfelt.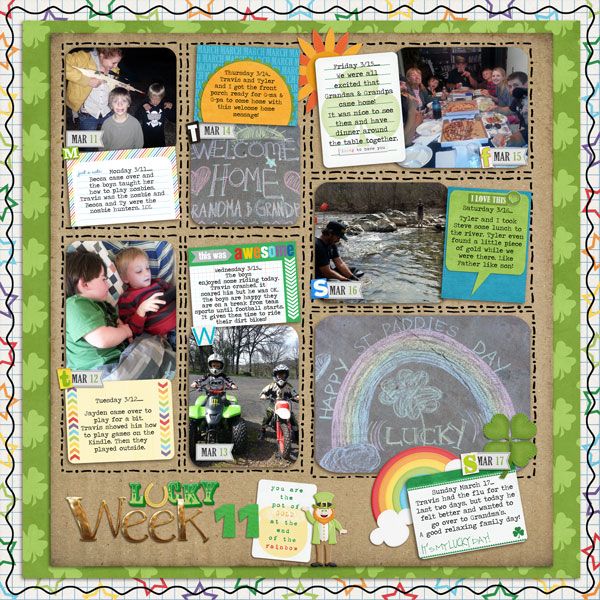 Project 365 layout by Juliemomof4. A great show of how the different parts can play together. I love it!
Hello Scrappers!
I hope everyone is having a wonderful week so far.   Things here have been busy, busy, busy!  The kids are going crazy because it is almost Spring Break.  I can't wait for a week off from homework and studying.  It'll be very nice to just relax a little.
I have a few layouts to share with you today.  I have seen some of the kits that are being released on Friday and they are totally AWESOME!!!  You need to make sure you stop by and see them.
I love the great colors in this layout.  It is so bright and fun and reminds me of Spring.  Kathy Winters did a fabulous job, I love everything about it!  The frame from Pretty In Green is so cool.  I can't wait to play with these they are so versatile and gives your layout such a finished look.
Here is another layout using the frames from Pretty In Green. Love it!!!
This new kit from Connie Prince is super especially if you have Sea World pictures.  I had the luxury of working with this kit ans it is super!!!  Here are  a few pages that really show off the cuteness of the elements and papers.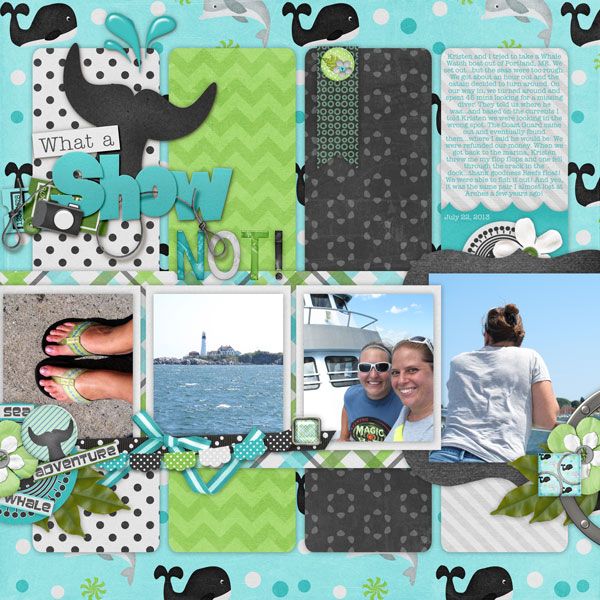 Well, that's all I have for today.  Make sure you check back in on Friday to see ALL the new goodies that are being released.  I hope everyone has a great rest of the week and weekend.  I'll see ya next week 🙂
Hey y'all! How is everyone's week going? I am simply EXHAUSTED. This weekend just flew by with all the green festivities–so glad this week is my spring break because I am in dire need of letting my brain get some rest! I do plan on getting some scrapping done this week, too and what better place to start than with a challenge?! 🙂
This week I am spotlighting a fun little challenge that comes with a freebie: the word art challenge hosted by Bekah of Bekah E Designs! I really like the cute freebie WA Bekah has created for us to work with this month; take a look!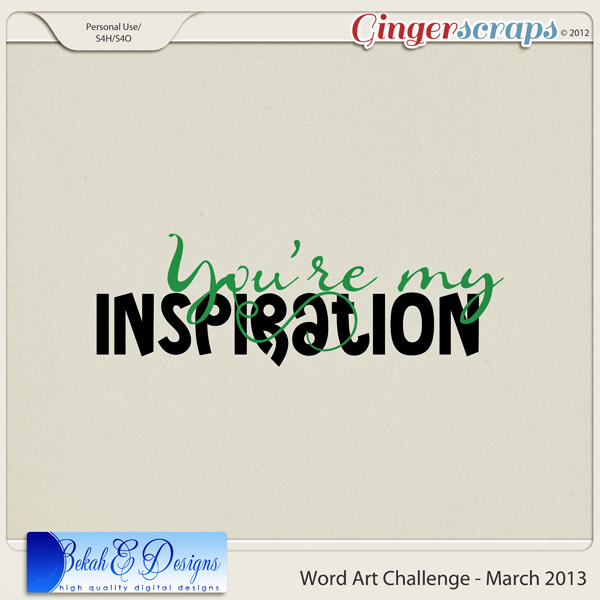 I love mixing script and block fonts when I do my own title work, the contrast is always so pretty and lends itself to all kinds of layouts, so you can safely assume I like this WA. 😉 I guess I'm not the only who likes it, because we've already got several pages posted in the forum using it! In need of some inspiration? Here you go…
By pamr
By ScrapinMama
By emscraps
I picked these three so you could see the different techniques that have been used with this one WA: layering in papers, flooding in colors and keeping it as-is! Of course, they're all beautiful and coordinate perfectly!  Do you love versatile word art as much as I do? 😉 These layouts are gorgeous, ladies! Make sure you take a second to leave them some love in the gallery. 🙂
The month is coming to a close soon–just under two weeks and we'll be in April…EEK! Don't forget to get your challenges tallied up in the March Challenge Points Tracking thread. You'll want to make sure you get credit for all your completed challenges so you can snag a nifty reward at the end of the month. 🙂
That's it for me–see y'all next week! 🙂