Good morning! How was your Easter? Today's April Fool's, but this is no trick! We at Gingerscraps have some great things in store for you! A new buffet, Free With Purchase, and Daily Download! This month, we also have a new item that will be released on the 1st of the month. The Monthly Mix, which used to release around the middle of the month, will now be releasing on the first! So much goodness going on right now!
This month's buffet is called Nature's Delight. It says spring and so much more! The designers did such a beautiful job with it!
Remember, if you don't want to hear the sound, just click the button next to the play button, and it will mute it for you.
The CT had a lot of fun finding pictures that fit the theme, and I think that they did a great job, as well!
Remember, if you don't want to hear the sound, just click the button next to the play button, and it will mute it for you.
Since it's a new month, it's time for a BAKE SALE! I don't know about you, but I just LOVE the bake sale! You never know what you're going to find in there, but it's always something that you just can't live without!

This month, we have Snips and Snails guesting with us for the month of April! We're all super excited!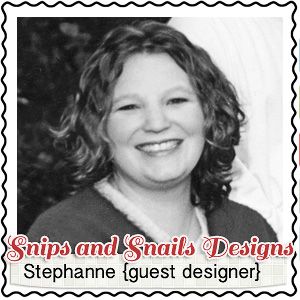 As we love to do, we asked Stephanne to tell us about herself, and this is what she had to share:
Hi everyone! I'm Stephanne of Snips and Snails Designs. I've been married for almost 12 years to my husband Andrew who is a youth pastor. We have two sons, Samuel (6.5) who is in Kindergarten, and Nolan (4). As a family we love to travel and I'm a big fan of all things Disney! We are super excited to ba taking the boys to Disneyland for the first time in June when we go to visit my inlaws in Phoenix.
I'm a full time designer and mom and do a lot of volunteering at the school Samuel attends and at our church. I started designing about 4 years ago just after Nolan was born. All my designing is done on my Asus Laptop in CS5. While I hold a Bachelor's in English, I have no formal graphic design training so it's an ongoing adventure learning new techniques and new things about my program.
Make sure you welcome her!
This month's Monthly Mix is so cute! It is quite literally a breath of Fresh Air.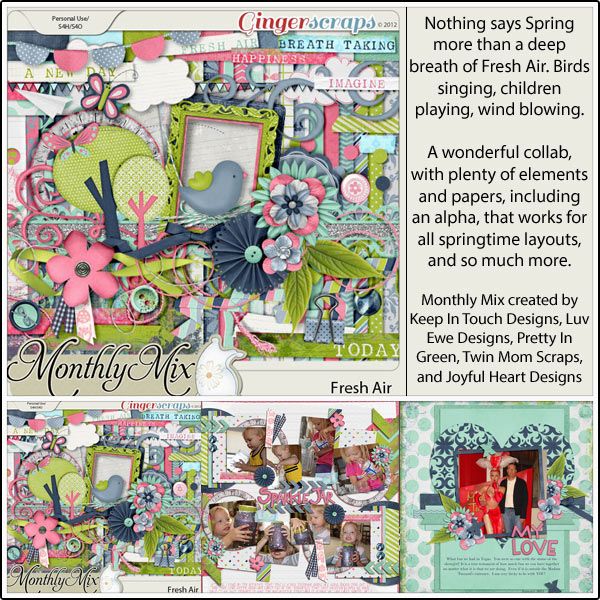 I love this collab between Keep In Touch Designs, Luv Ewe Designs, Pretty in Green, Twin Mom Scraps, and Joyful Heart Designs.
It's time for a new daily download.
Last month's kit was created by Pixelily Designs, and wasn't it just adorable?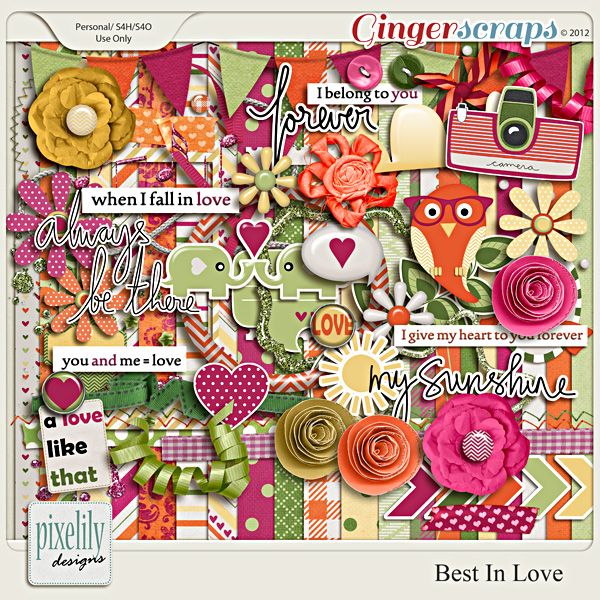 http://store.gingerscraps.net/Best-In-Love.html
This month, Ryan, of Roseytoes Designs has created a gorgeous kit for you. The colors are so perfect for spring, in my opinion!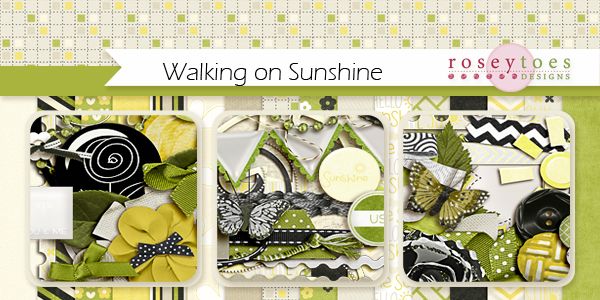 http://gingerscraps.net/gsblog/2013/03/daily-download-april-01
Remember, when you spend $10 in the store, you get a great grab bag! This month's was created by Luv Ewe Designs.

http://store.gingerscraps.net/April-2013-FWP-Grab-Bag.html
Remember, the challenge points starts over. New challenges, new fun! Get in on it!
Also, come to the forum, and let us know the best April Fool's Prank you've done. Or that someone has done to you!