I just cannot believe that September is over. It flew by! I'm excited for October though. Pumpkin patch visits will be happening. Leaves will be piling on the ground, begging to be jumped into!
This month, it's going to be all about the festivals that happen in the fall. For my family, we look forward to Ren Fest, which we usually go to in September, but this year, we're going in October.
Do you have a favorite festival that you look forward to going to each year? If you do, then you'll love the new buffet created by the Gingerscraps designers! It's called Fall Festival.
Before I get to that, though, we can't forget the Bake Sale!


https://store.gingerscraps.net/-1.00-BakeSale-Oct-1-5/
Oh, I just can't take all the goodness, and I haven't even started.
The colors are perfect for most any layout involving any aspect of fall. The designers went all out and did an amazing job! This month, to show off better what each designer designed, we're breaking up the big image into several ones.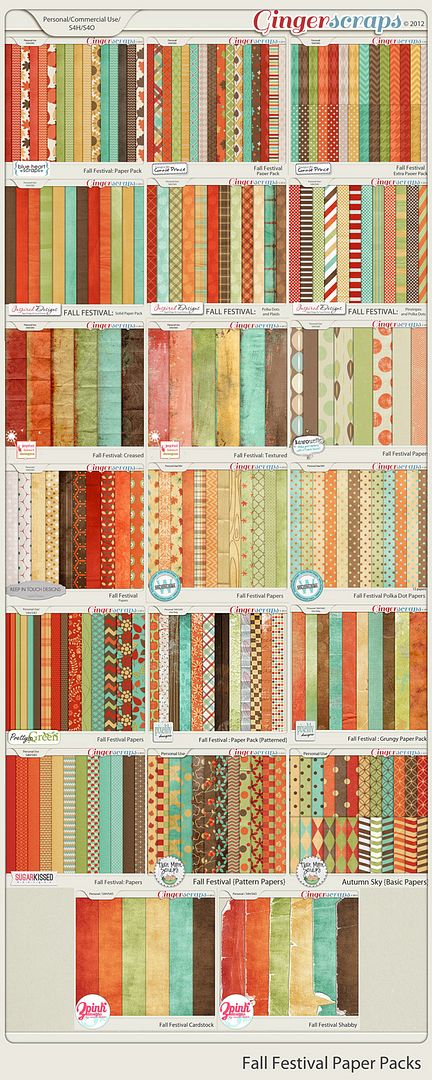 The Papers

Elements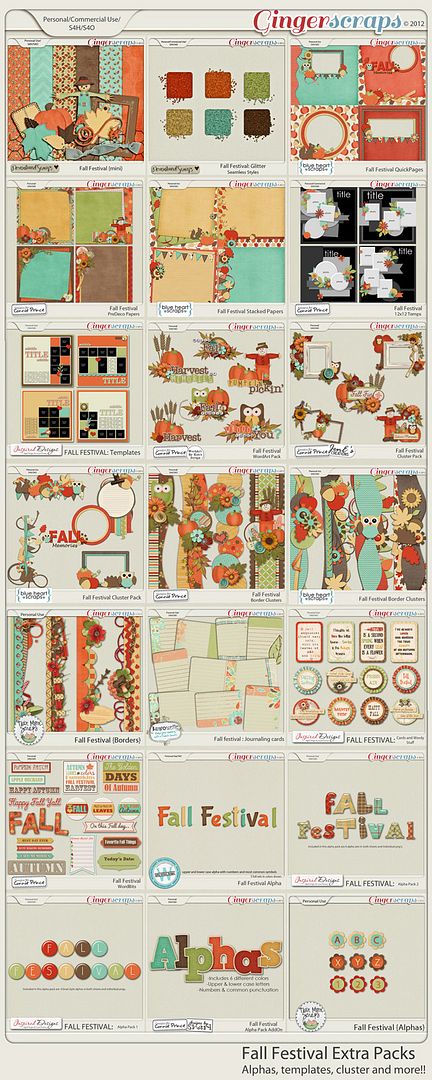 Alphas, templates, and so much more
The designers did an amazing job, didn't they? They always do, but I'm always blown away at what they're able to accomplish. I love it.
The CT couldn't get enough of the packs.

The layouts are just amazing, and I'm excited to be able to showcase some each week again.
The changing of the leaves isn't the only changing happening. There's a new FWP grab bag. This month, it was created by Crystal, of Inspired Designs. It's beautiful. You don't have to take my word for it. When you spend $10 in the store, you get it yourself, for free.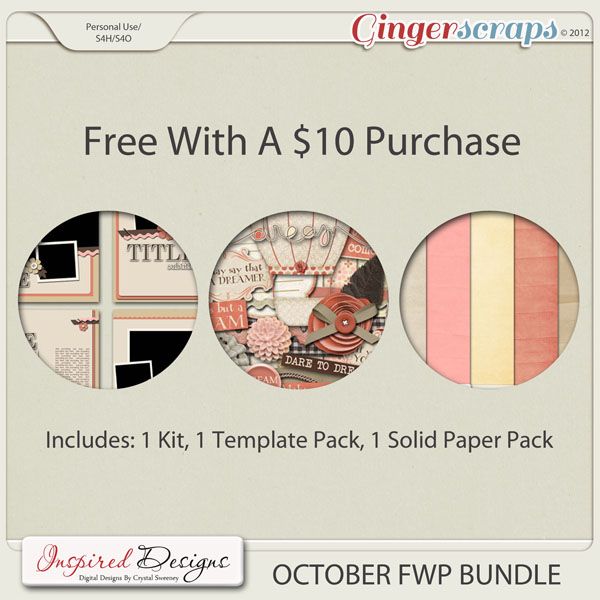 https://store.gingerscraps.net/October-FWP-Bundle.html
Now, this is where we say goodbye to our guest designer and welcome a new one, but this month, we get to do things a little differently. Meg, of Ocean Wide Designs is staying to be a permanent part of the Gingerscraps crew! You all helped convince her to stay! It has been a BLAST getting to know Meg, and I'm so excited to say she's staying!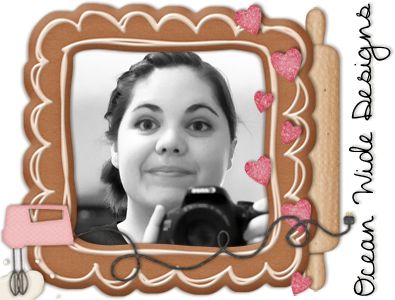 And to celebrate, she's having a sale! I mean, come on, who doesn't love a good sale?

We do have a new guest designer with us as well!
As always, we ask our guests to tell us a little about themselves. Here's what Amy had to share with everyone:
My name is Amy Stoffel, I live in Tucson Arizona with my two sons Jacob and Braden and my best friend and partner of ten years, Brandon and of course our dog Rex. When I am not scrapbooking you can find me taking long walks through the desert, scouring Etsy for more to goodies to add to my vintage collections, reading, cooking and watching my favorite shows on tv. Some of my favorite things are Alice in Wonderland, Twilight, scary movies, Pitbull and cupcakes.
I think she'll fit right in. She has some new goodies coming to the Gingerscraps store in the coming newsletter, so make sure you keep an eye out for them!
Hmm, I think that's it. What? Did I forget something? I'm just kidding! I know I need to share the Daily Download.
Last month, Twin Mom Scraps gave us a beautiful kit to play with. The colors were so warm and inviting.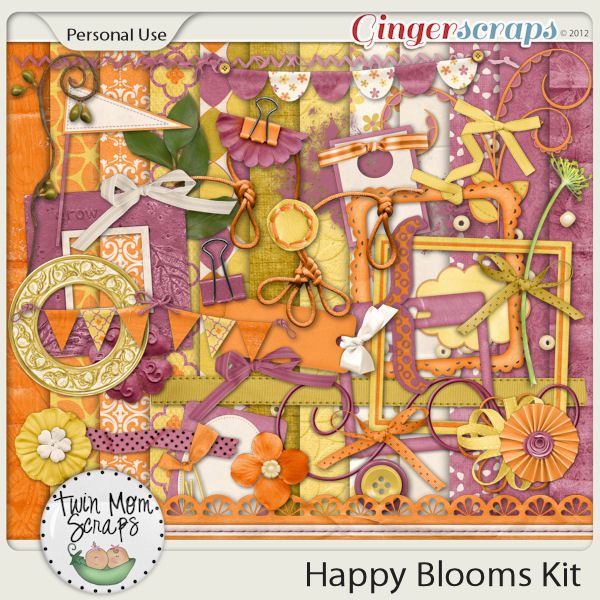 https://store.gingerscraps.net/Happy-Blooms-Kit.html
Remember, if you missed a piece, you can purchase it in the store.
This month, Jen, of Pixels by Jen, created the download.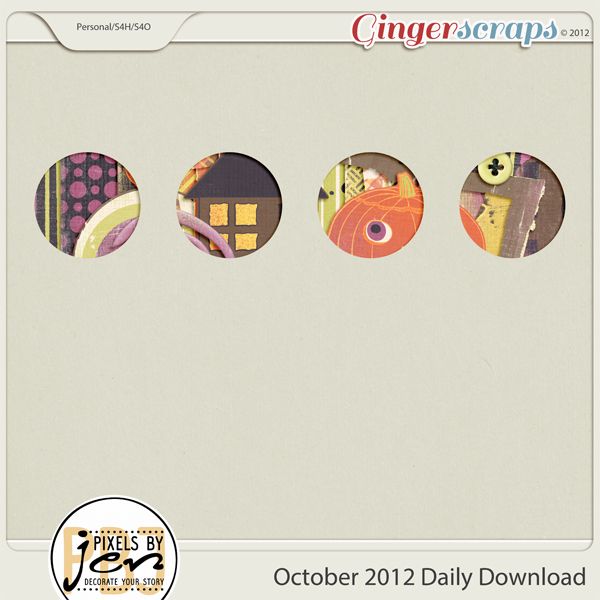 https://gingerscraps.net/gsblog/2012/10/7277/
I spy a pumpkin an some spooky colors! I wonder if it's a Halloween-themed kit? We'll see once October really gets swinging! Make sure you check the blog daily for new pieces, or you might miss something!
Well, we've come to the end, and I still cannot believe that it's October already. Here's to hoping that October hangs around with us just a little longer, giving us more time to complete those challenges!
Have a great week, and I'll see you Friday for your regularly scheduled Fresh Baked!