Can you believe it's already December? Thirty-one more days, and we'll be looking at 2013!
The winds are blowing in from the north, and the breath is visible in the air. There are white flakes falling from the sky. The winter season is upon us, and it's time to prep for the snow.
Some areas have already had snow come to their areas, and I will be honest. I am completely jealous. I was born during a snowfall. Being a December baby, you tend to end up with that. Lately, we haven't seen any snow. It makes me sad. Hopefully, we get some this year.
Why, you ask, am I going on about snow? It's time for a new buffet!  This month's theme is snow, snow, and more snow! Snowball Fight!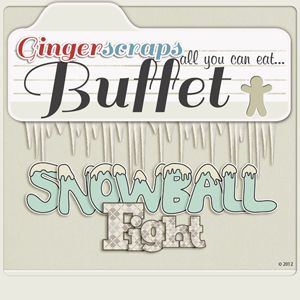 Snowball Fight is full of fun elements and papers, just perfect for all of those snow pictures. If you don't have any snow pictures, pictures of the beach would work just fine, I think. Even something Christmas related would be perfect!
[Read more…]