The Siggy challenge was great! Who doesn't love to say their own name all snazzed up! 🙂 Our random pick winner was:
Yay! (Like how I used her siggy to announce her? I'm so clever. 🙂 )
Here's what she won: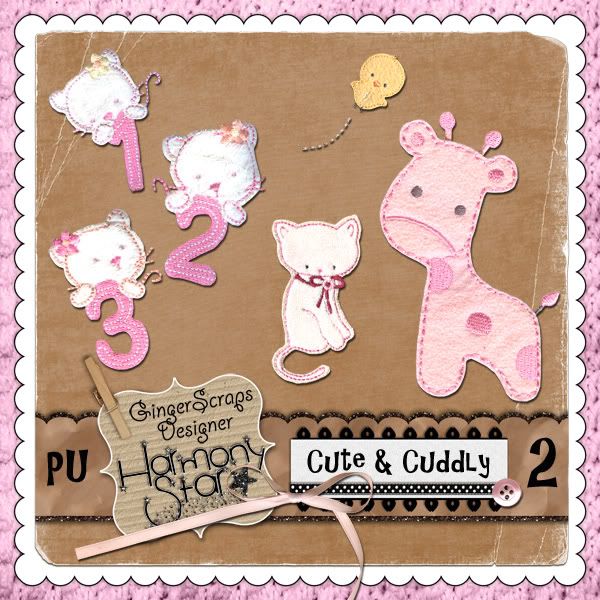 So have you all checked out our new designers? Are you as excited as I am?!? There is a whole lotta talent going on at Gingerscraps and now with more designers you have more options to get you more cookies which get you more discounts on these great designs! Yay!
Now onto the challenge Trina and Colleen have teamed up to give you a fun new challenge! It's called All Fall Down! In this challenge they have a template, but all the peices fell down, but that's okay, that means you can put them back however you want to make your own template for your own layout! Cool! Here's the template for Sept.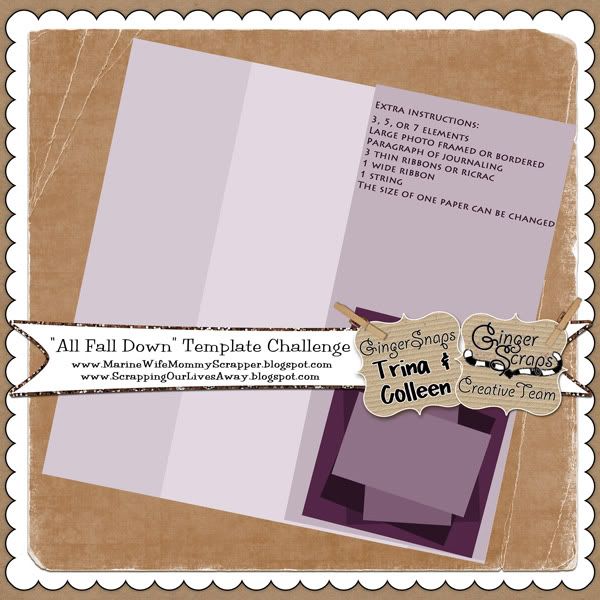 go to the challenge to download it.
There are some further requirements for this challenge:
Your Layout MUST include the following:
3 thin ribbons or ricrac
1 wide ribbon
1 string
3-9 elements (in addition to the ribbons and string listed above)
A title
Some journaling
and The large photo must be framed or bordered
There are also a few variances in the template pieces which we will allow:
The 5 photo pieces can be used as ALL photos, but if you choose to only do let's say 3 photos, the other pieces must than be used as papers
The size of one paper can be changed
The shape of two papers can be changed
Any smaller photos can have small mat or stroke
Here's some great LOs made for the challenge:
Does that look fun or what? I love the help of a template, but the freedom to move things where ever I want. Want to give it a try? Go to the  All Fall Down challenge! Then come back here and post the link to your LO  in the gallery and post it in a comment here. Next week I'll randomly select one and that person will win a prize from ME! (Harmonystar).
Bonus – I will give a Brownie point to everyone who comments with their LO link.
 CT & those who have already done the challenge are elligable. Let me see those comments!