Good Friday Morning!!  Is it just me or has this week flown by?  I've been off on which day it was all week for some reason.  Luckily I know today is Friday and I know it means SALES!!
Don't forget our September Special!
Let me show you our new releases!  Don't forget everything is 25 – 30% off this weekend only!!
Daphadilly Art is bringing you Firefly. Scrap your memories of daydreams and make-believe with this fanciful kit!  You can get this kit for only $2.45!  That is 30% off!!
https://store.gingerscraps.net/Firefly.html
___________________________________________
Daphadilly Art also has Daphne Age One.  She made this kit about her dd, Daphne on her first birthday. It has lots of things she loves and I hope you love it too!  It is only $2.45 for this weekend!
https://store.gingerscraps.net/Daphne-Age-One.html
_________________________________________________
Pretty in Green has a new Commercial Use overlay set out this week Fancy Pants, and remember its 25% off for the weekend!  Only $3.75 for the weekend!!
These Fancy Overlays help you to easily create papers! layer them with any type of solid or textured papers do a little adjusting of the blending modes and opacity, or anything your heart desires, and you'll discover that making paper with these overlays is a breeze! 6 Commercial use overlays saved in png format. All the files are created at 300 dpi and size at 12x12in.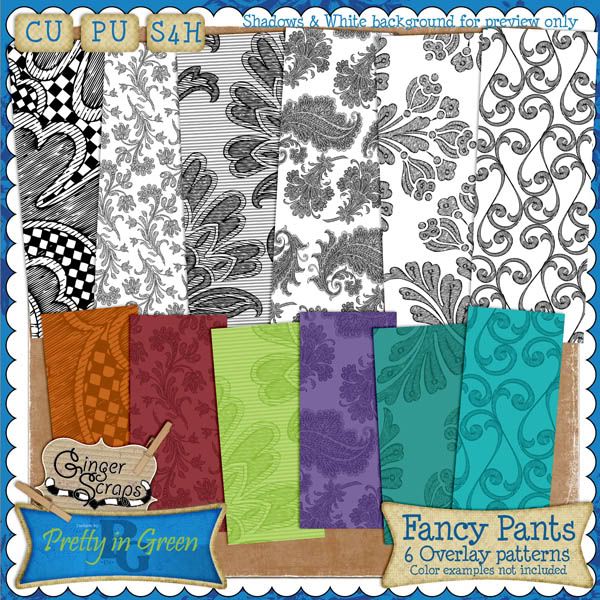 https://store.gingerscraps.net/Fancy-Pants-Overlays.html
_____________________________________________
Have a great week!  Don't forget to check our the forums.  Rumor has it that there is "someone" handing out RAKs to fans of GS….could you be next?