I Feel the Need… the Need for SPEED (Scrapping)!

Did anybody join in on the Digital Scrapbook Day (week) activities? I was so pleased to see not one but TWO speed scraps included. I LOVE speed scraps! But I know they can be really intimidating, especially for the novice digi-scrapper. Since both Lori from Scraps N Pieces and Aimee Harrison have indicated they'd like to run monthly speed scraps, I thought I would share some tips for making speed scraps a fearless and fun way to document your life.
Let's talk about speed scraps in general first. When I first became a digi-scrapper, I knew nothing about anything. Nada. Zip. Zilch. I had a sale-priced Photoshop Elements 5 CD that I bought at a business supply store and nothing to work with but a lot of photos. So I started downloading freebies. Just like a lot of others do when they're getting started. The first online digi-scrapping shop I actually spent money at had a series of monthly challenges that were intended to stimulate people to become competent digital scrapbooking artists so I began playing along with them. Soon I was pulled into my first speed scrap… and I was terrified! I could barely make PSE do anything at all and now I was going to have a stopwatch running? But I jumped in. Some of my favourite layouts of all time are those I've created for speed scraps.
Speed scraps are time-limited events; depending on who's in charge they can go only 2 hours before the gate comes down while others are a little more generous and allow several hours after the last set of instructions for participants to post their layouts in the gallery. Here's the basic scoop: The facilitator for the scrap has already put together a layout and written 7 sets of instructions to guide participants in creating their layouts. The first set of instructions is posted at the top of the hour, followed by the rest at 10 minute intervals, the final set being posted at the end of the hour. Participants then (usually) have one more hour to finish the layout and get it posted into the gallery and the speed scrap thread. For those whose creative process takes days, this can be really stressful. But you know what else it can be? Liberating! Think of it as a mental template.
Now for some tips…
When you're planning to participate in a speed scrap, have some specific photos in mind. You won't know until the instructions are posted how many you'll need, but if you have a couple or three already chosen you'll be ahead of the game before it starts.
Try to choose photos that will lend themselves to different shapes or formats. I like to have 3 in my speed scrap folder: a portrait format, a landscape format and one that can be either a square or a circle. Then I'm ready for anything!
When you've selected your photos, think about which kits might work well with them and have them in your memory. I loved the speed scrap Aimee hosted on Saturday, for which she generously provided a free mini-kit for those who chose to work with it. I did. Having that for inspiration I was able to narrow my photo choices down nicely.
Have both your software and your digi-supplies open on your desktop so you're already in working mode. Open a new canvas on your workspace, in whatever size you normally work with. I do 12×12, and in PSE 15 there's even an option for making a preset for that. The more prepared you are going in, the easier it'll be to work along with the group.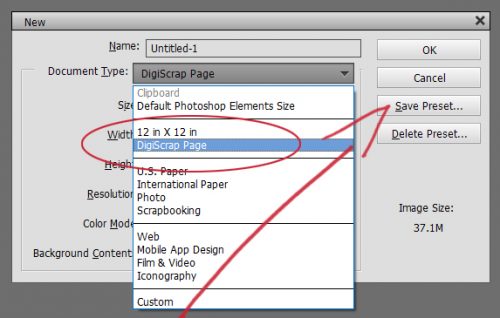 Make use of the keyword search when you're looking for something in particular. If the instructions call for a bow, but the kit you're using doesn't have one, you can run a search for one that will look good with your kit while you do something else.
Use the tools that come with your software. The grid is one of the most useful ones of all for speed scrapping. Sometimes the instructions will be very explicit: "Place your photo 1 1/2 inches over from the right edge of your background and 4 inches up from the bottom edge." Popping a grid over your background (View>Grid or CTRL/CMD>') makes doing that a cinch. (Kat Hansen wrote the book on detailed instructions for speed scrapping.)
If your instructions say to "center a large flower over the left edge of your photo", you can use the Move tool option for centering objects by selecting both layers then clicking on Align>Center.
Don't freak out at how fast time is passing. Take a second to read the instructions carefully so you can save time actually doing what they say. By the time the last set of instructions – usually to add shadows, a title, a date and some journaling – you'll be close to finished anyway. The last hour is to pretty everything up and make sure it all looks good.
Don't feel like you have to chat while you're working. No one expects that. Multitasking is hard enough when you're

not

racing against the clock.
I use purchased shadow styles a lot, and they're especially handy for speed scraps. You can select all of your paper layers holding down the Shift key as you click on the layers, then shadow them all with one click. Same for flowers and other items. It really saves a lot of time. If you're close to finished and still have time left, then you can create some custom shadows if you want, but you won't necessarily need to.
Don't panic if you're short on time and don't think you'll get your credits down with your layout in the Gallery before you post it and copy it to the thread. You can go back into the Gallery after your layout is posted into the thread and add them in. Just don't forget to put them in there!
Also don't be upset when your layout looks similar to all the rest of them. They were all working with the same set of instructions you were, so they SHOULD resemble each other.
Last but not least, don't sweat the petty stuff (or pet the sweaty stuff!). It's not the end of the world if you're not finished when the clock runs down. You've made a great attempt and now that you've gotten warmed up, next time will be better. If you're like me, you're participating for the challenge and not for the prize, nice as those are. No one can manage absolutely everything all the time. There will be interruptions – the dog needs to go out, the phone rings and it's your mom, the baby wakes up and wants Mommy NOW… There may be a screen freeze or your software may shut itself down on you without warning… and you didn't save your work. All of these have happened to me (except the baby part… no babies here!) and I just got back in the game. If you're so stressed out by speed scrapping that it isn't fun, DON'T try to get it all done in 2 hours. No judging!
Here's the layout I speed-scrapped with Aimee on Saturday. I'm really happy with it. And I had it done with 20 minutes to spare… so it CAN be done!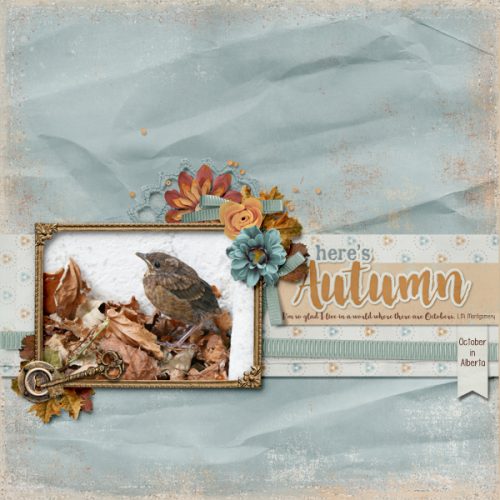 How do you feel about speed scraps? What are your favourite challenges? Personally, I love them all!