5… 4… 3… 2… 1… HAPPY NEW YEAR! Can you believe it? It's 2013!! 2012 was filled with ups and downs, a few bumps and bruises, but plenty of good friends and love. At least it was here at Gingerscraps. Gingerscraps saw a new look, lots of new designers joining the team, and the sadness of a few leaving us.
New Year's is the time for celebration, and for reflecting. It's the time to set new resolutions and review the ones we made the year prior. This month's buffet, Hopes and Dreams is perfect for that!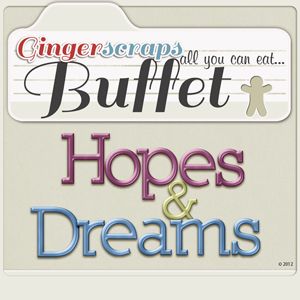 The designers were really into this theme, I think. They had a lot of great stuff!



The CT really went in several directions when they played, as well!

Since it's a new month, it's time for a BAKE SALE! I don't know about you, but I just LOVE the bake sale! You never know what you're going to find in there, but it's always something that you just can't live without!

Remember, that when you spend $10 in the store, you get an amazing grab bag created by one of our amazing designers. January's has been created by Laetitia, of Kawouette Designs, and it is just lovely!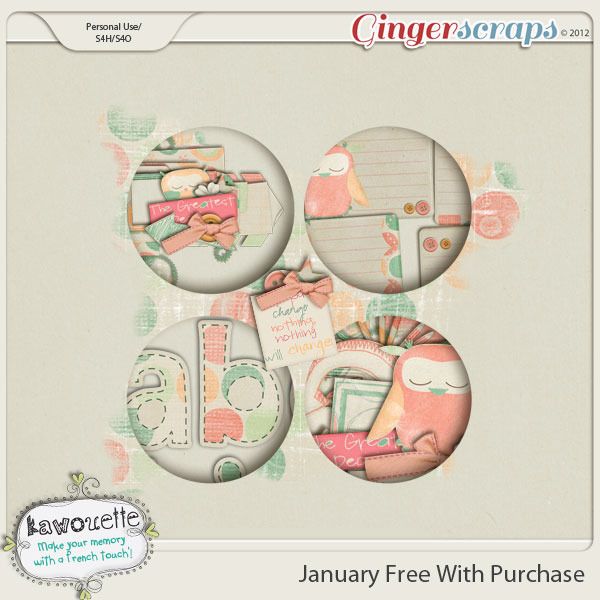 https://store.gingerscraps.net/January-free-with-purchase.html
Today, we also have a new member to the design team to welcome!! Lisa, of Aprilisa Designs!! I'm SO excited!!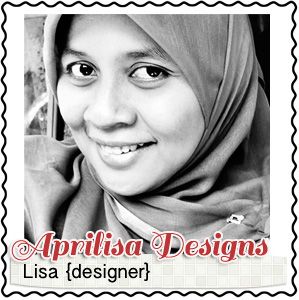 As always, we asked her to tell us a little about herself and she did!
Hello everyone,
My name is Lisa and my design name is Aprilisa Designs. I am 34 years old mother of 2 daughters. I am from Indonesia, but now settled in Cochin, a small city in tropical Kerala, southern part of India. I married my husband, who I met online, for 9 years. There's nothing much I do besides designing because designing itself makes me busy all the time. I love baking (but not cooking) and I used to maintain a food blog before I switched to a digital scrapbook blog. I would love to learn photography and also cake decorating if I have enough time.
I started scrapping digitally in late 2008, when a designer friend introduced me to it. But everyone in my family knows me as a crafty person. I love making things since I was young, but never consider myself as paper scrapper. I love bright colors for sure! Most of the time, colors are the first things that inspires me. And my kits are usually cute and girly. Being in an all-girls family, and now I have two daughters myself, I'm getting more and more comfortable with girly stuff. I love clean papers, clean and neat elements. I'm not into grungy style that much, even though I will do it too sometimes.
That's a little about me, and I hope to know you all better soon.
I love how worldly our team, I guess you could put it, is becoming! India, France, Israel, just to name a few! We get to learn about so many other cultures without having to pay for a plane ticket!
Here are just a few of the amazing items available in her store: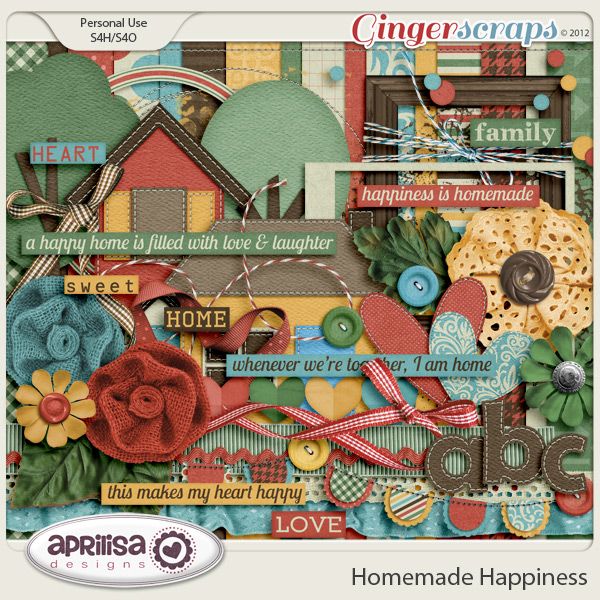 https://store.gingerscraps.net/Homemade-Happiness.html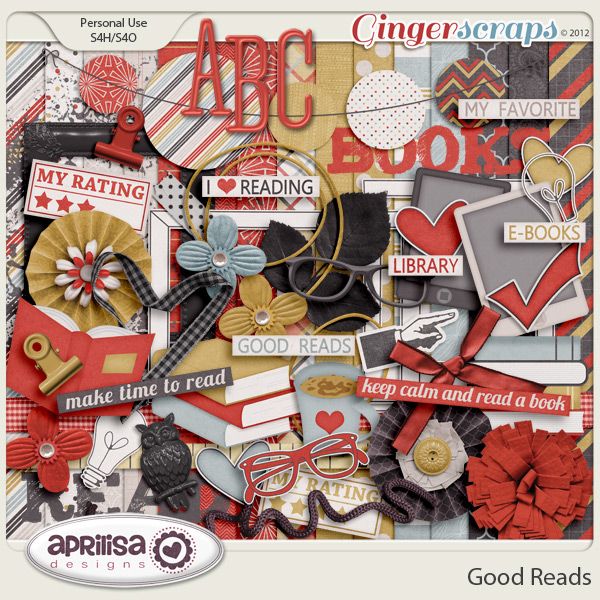 https://store.gingerscraps.net/Good-Reads-Kit.html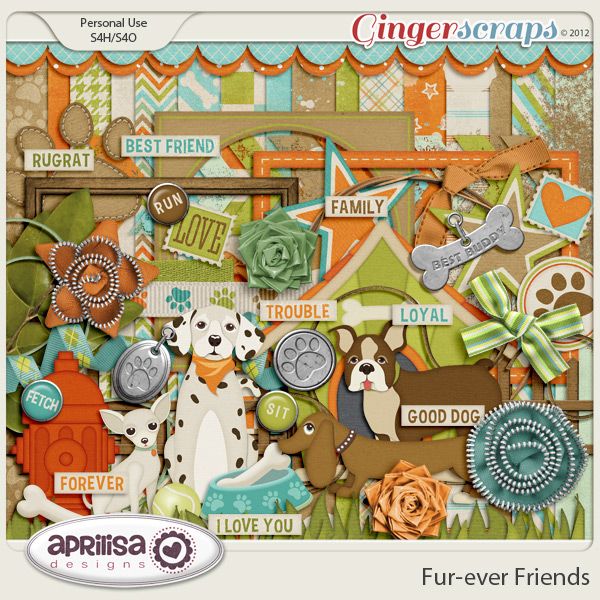 https://store.gingerscraps.net/Fur-ever-Friends-Kit.html
Wow! It's time to reveal January's Daily Download!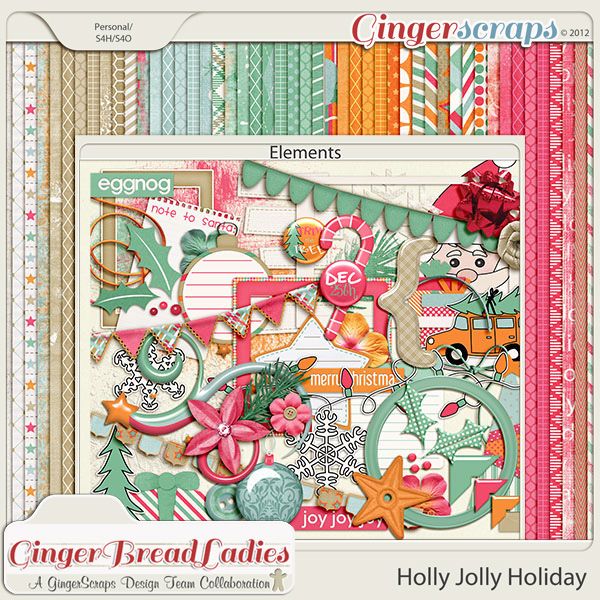 December, you were really in for a treat! Several designers teamed up, and they all worked together to make a BEAUTIFUL kit!
The designers:
January's Daily Download is just as awesome! I promise! Connie Prince, of Connie Prince Designs, is the designer this month, and considering the snow I see outside my window, and the snow that I hear has hit so many other places, PERFECT for January!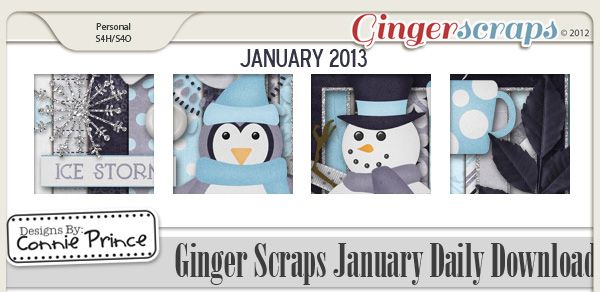 https://gingerscraps.net/gsblog/2013/01/daily-download-january-2013day-01/
Make sure you come back every day!
We at Gingerscraps hope that you will find your way to the forum, and share with us some of your New Year's resolutions, maybe something you got for the holidays, or to just join in the celebration that we survived 2012! Help us send out 2012 with a smile and welcome 2013 with open arms!
Happy New Year!