Good Morning! It's May! Can you believe it? We've already finished a quarter of 2013! May is a great month! School is finishing, spring is (supposed to be) in full swing!
Speaking of spring, this month's buffet is called Spring Fling. It's full of fun bright colors that just say "I'm ready for a change of scenery"!
The designers all had their own take on what the colors and theme said to them! I love the variety!
Remember, if you don't want to hear the sound, just click the button next to the play button, and it will mute it for you.
The CT had a lot of fun finding pictures that fit the theme, and I think that they did a great job, as well!
Remember, if you don't want to hear the sound, just click the button next to the play button, and it will mute it for you.
Since it's a new month, it's time for a BAKE SALE! I don't know about you, but I just LOVE the bake sale! You never know what you're going to find in there, but it's always something that you just can't live without!
*Remember* make sure you keep an eye on your inbox tomorrow , May 2, we will be sending out a special edition newsletter with all the GingerScraps iNSD details. But here is a sneak peek of what we have planned!!
Whoot! I'm so excited!!! Now on to all the awesome news I'm allowed to tell you about today…..
April, we had Snips and Snails guesting with ! We're all super excited to announce that she's guesting for another month!
She's not the only guest for May! We also have Katie, of Katie Creates!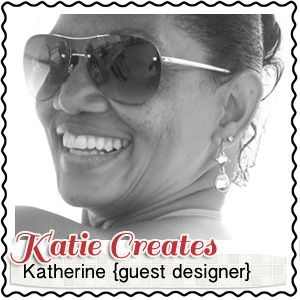 As we love to do, we asked Katie to tell us about herself, and this is what she had to share:
Hey everyone!
My name is Katherine but I prefer to be called Katie. I design under the name Katie Creates. I live in Vineland, New Jersey and I am a Claims Analyst for a reinsurance company. I have one daughter who is 22 years old and she just gave birth to my first grandson on March 1, 2013! I have only been a designer since November of 2012 but *personally* feel that I have come far since then and things will only get better from me as time goes on and I learn new skills. In my spare time (not designing or working), I love to read and take walks when the weather is nice. I also travel a lot but this is mainly during the summer months.
Make sure you welcome her!
This month's Monthly Mix is called Signs of Spring, created by Connie Prince, Kathy Winters, Matilda Designs, Roseytoes, and Sugar Kissed Designs.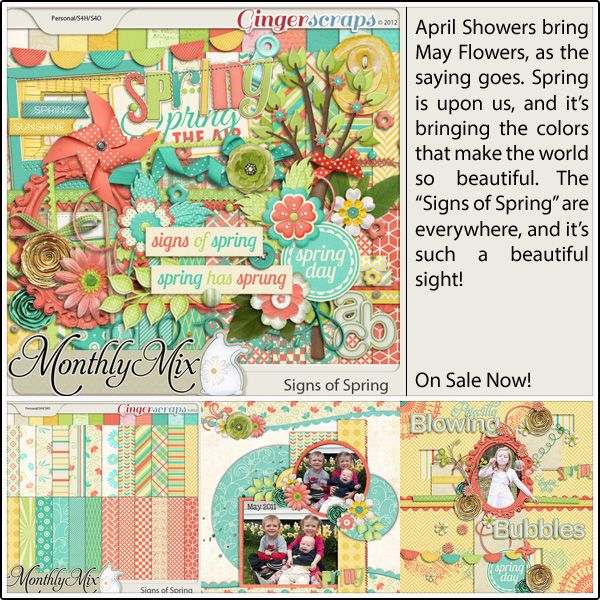 https://store.gingerscraps.net/Monthly-Mix-Signs-of-Spring.html
It's time to reveal Ryan [of Roseytoes Designs]'s beautiful kit that she offered for the Daily Download for April: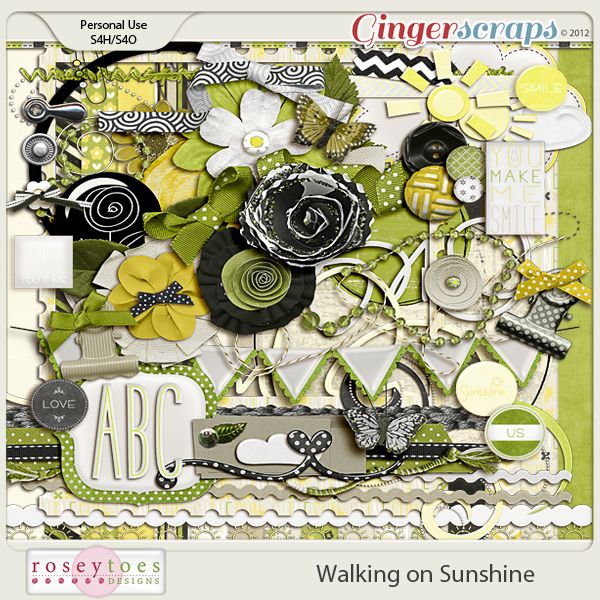 https://store.gingerscraps.net/Walking-on-Sunshine-by-Roseytoes-Designs.html
Weren't the colors just amazing? Don't forget, if you missed a piece, you'll be able to get it in the store now!
Now, before I reveal the Daily Download for May, let me tell you a story.
Okay, there is no story! This month's is a wonderful matching kit to the iDSD FWP that will be available soon. The items used in the preview are from that kit, and NOT the daily download. Just so that you know.

https://gingerscraps.net/gsblog/2013/05/daily-download-may-01/
Remember, when you spend $10 in the store, you get a great grab bag! This month's was created by Inspired Designs.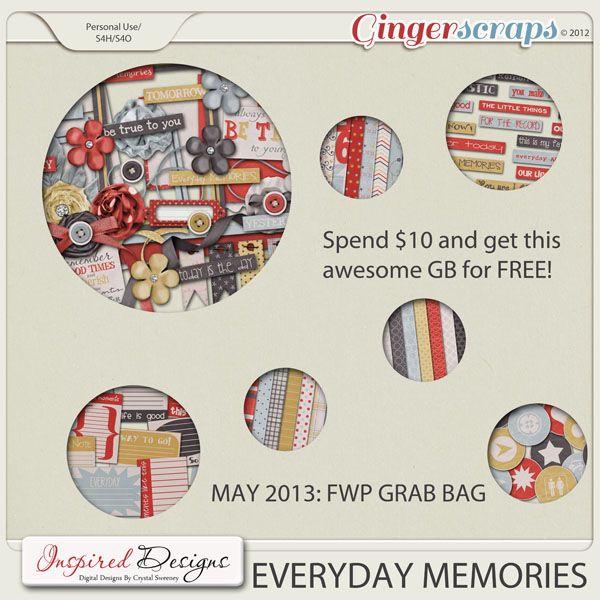 https://store.gingerscraps.net/EVERYDAY-MEMORIES-May-2013-Free-With-Purchase-GRAB-BAG.html
Our special iNDS newsletter will arrive in your inbox within the next 24 hours. Make sure you open it up! GingerScraps has soooo much planned! Be ready to celebrate this exciting holiday with us!